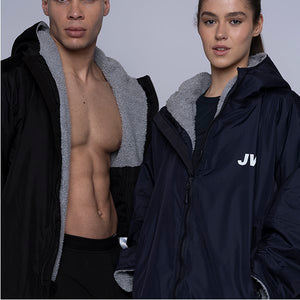 Why Is Everyone Talking About Weatherproof Changing Robes?
What are Changing Robes?

Over the past few years there's been an explosion in interest in changing robes. Originally designed to keep surfers warm in cold climates, they've now become essential kit for anyone looking to keep warm and dry.

And it's not difficult to see why, a good changing robe solves the problem of getting changed in a public space whilst helping you to dry and keeping you unbelievably warm at the same time.

Even if you're not planning to use a changing robe to get changed out of cold, wet gear, they're also great at protecting you from the elements.

We're now seeing our Weatherproof Changing Robes used for a variety of purposes from getting changed on the sidelines of a rugby game, watching outdoor events, wrapping up after a swim, or even walking the dog! There are so many uses for them.

Why Use A Changing Robe? 

There are many reasons to use a changing robe, but chief among them is the convenience that comes with a hands-free option to help you transition between wet or dirty clothes and clean ones. It is all done under the robe, where you have plenty of space to move. It also creates privacy where you may not otherwise have any available.

What To Look For

Weatherproof qualities: The best Weatherproof Changing Robes keep out the rain and are also windproof to protect you from the elements. They also come with soft and warm linings to help you dry off and to keep you warm.

Size:  Sizes are very generous to enable you to change easily, so bear this in mind when choosing your ideal fit. Check the dimensions carefully and don't necessarily opt for the size you'd normally choose for a standard jacket. If you're normally a size large you may be surprised to find that a medium looks and feels better.

Price: There's a broad price range for weatherproof changing robes, and for the most part, you get what you pay for in terms of material quality and use. Low-cost robes may look the part but will not offer the same level of protection from the wind, cold and rain or keep you as warm and dry.

Why the Elite Robe?

Our Weatherproof Changing Robes are designed to compete with the best in the market. Unlike leading competitors, The Elite offers fully taped waterproof seams as standard and a 170gsm waterproof pu-coated outer shell to keep out even the harshest of elements. And with a 340g Sherpa fleece lining you can be sure that our Weatherproof Changing Robes will keep you warm.

Available in sizes 10-13 to XL our robes are fully customisable for your clubs branding branding, we recommend heat transfers to retain the garments full water resistance.

There's more information here on our Weatherproof Changing Robe.

 
---